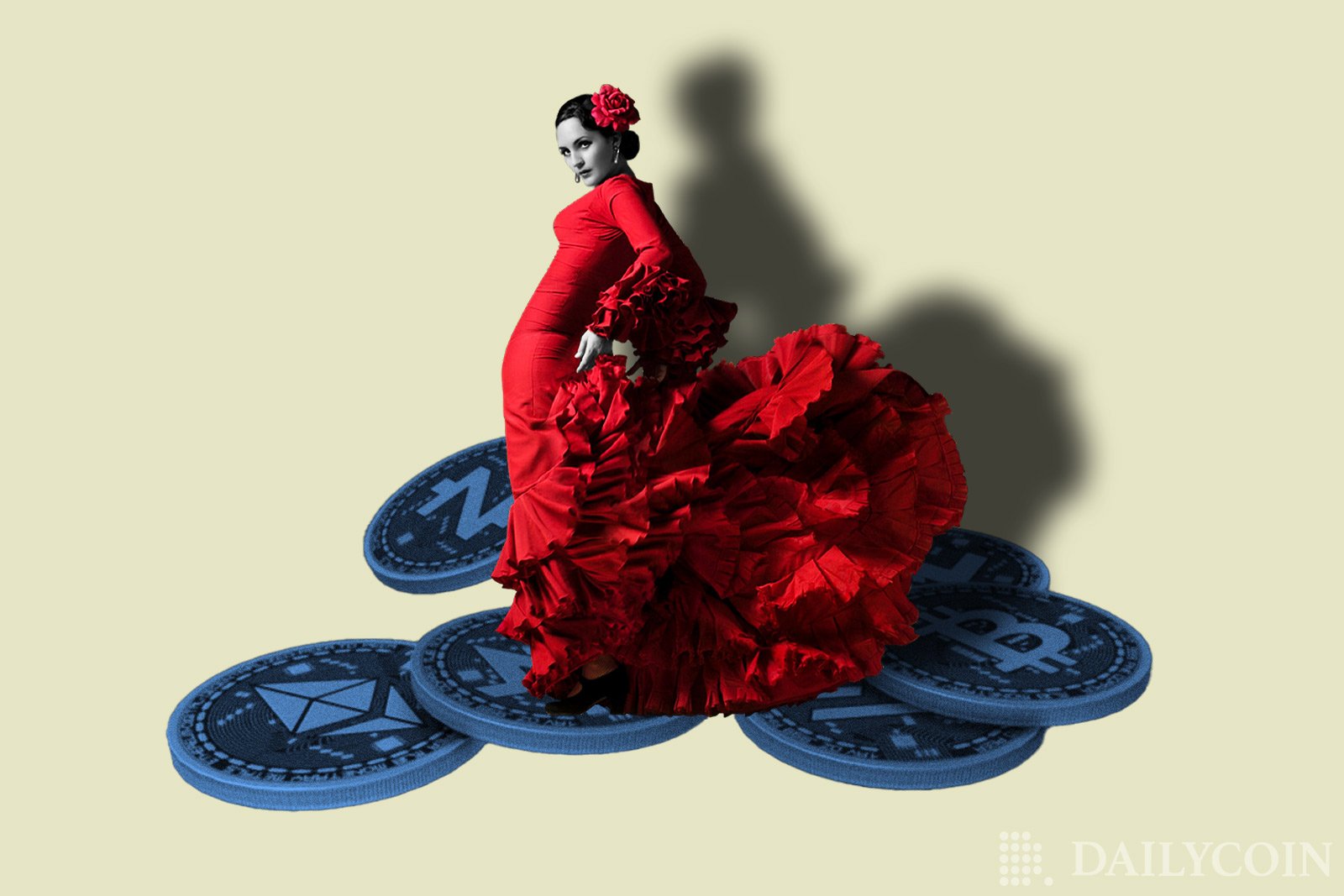 A study by the National Securities Market Commission (CNMV) of Spain revealed that only 6.8% of Spaniards have invested in cryptocurrency.
The level of cryptocurrency knowledge is still very low among investors in the european country.
The group of investors is largely made up of young people with medium – high levels of academic education.
The head of the CNMV, a harsh critic of cryptocurrency investments, likens digital assets to spiral schemes and financial bubbles.
The majority of Spaniards that have invested in cryptocurrencies are young or middle-aged people with university studies and above average income, according to a survey published by the National Securities Market Commission (CNMV) of the European country.
The report from the Spanish regulator outlines aspects of Spanish society that have adopted Bitcoin (BTC) and other digital currencies, and reveals that around three quarters of Spaniards have some knowledge of crypto assets, or know what a cryptocurrency is.
Just 1.4% of respondents claimed to know a lot about Bitcoin, while 6.9% claimed to have average knowledge, and 22.2% admitted to possessing only cursory knowledge of cryptocurrencies.
In the 'Study on Cryptocurrencies and the Effectiveness of the Measures Promoted by the CNMV', 1,500 Spaniards were asked if they have invested, or plan to invest in Bitcoin and other digital currencies.
82.9% responded that "they have not invested and will not", though 10.2% indicated they might invest in the future. The remaining 6.8% surveyed confirmed that they had cryptocurrencies in some capacity.
Of the people surveyed, a surprisingly large 45.3% revealed that they had barely even heard of "Bitcoin" or "cryptocurrencies", and a further 24.2% claimed to be completely unaware of the subject.
Who Are the Spanish crypto investors?
"The profile of the investor in cryptocurrencies corresponds to that of a man with an average age of around 40 years, although with a special weight of ages between 25 and 44 years," the CNMV study read.
The Spanish regulator analyzed the profiles of 300 highly representative investors of the Spanish financial scene. According to the data compiled in the investigation, investors generally only invest less than 5% of their capital in digital assets.
The study found that those who had invested in cryptocurrency typically had incomes of more than 3,000 euros per month. Nevertheless, most only buy crypto occasionally, but especially so during a bear markets, or when they have extra disposable capital to invest.
A common trend was recorded which indicated that those who invest in digital assets typically make more use of social networks and other information technologies.
Almost 7 in 10 people who have knowledge of cryptocurrencies admitted that they were aware of CMNV warnings on the risks of investing in digital assets, but 28% believe that this risk is similar to that of any other investment, while the remaining 6% were unsure.
The Cryptocurrency "Investment Trend"
Recently, Chairperson of the National Securities Market Commission (CNMV) Rodrigo Buenaventura appeared before the Congress of Deputies to express his opinion on investments in cryptocurrencies and the general profile of Spanish investors.
"On the one hand, we know that it is a behavior that is highly concentrated in certain population groups: mostly urban, male and young (between 16 and 34 years old)," the official remarked.
"A small part, a very minority, of this group shows off a component of alternative, disruptive culture, consciously away from financial institutions and the traditional world of regulated investment, control of money laundering or the fight against tax evasion. prosecutor," he added.
He pointed out that "most investors, on the contrary, are citizens without any oppositional, libertarian or anti-financial system component, who have simply joined the trend seeing the apparently promising results of those who entered at the beginning."
Buenaventura believes that this "investment trend" is far from the "future role of cryptocurrencies as private money", and that it corresponds more "to an expectation of quick profits."
"Pyramid schemes and financial bubbles"
"Unfortunately many of those fashionable 'assets' are not assets; they do not contain rights or are backed by other assets and do not contractually offer future returns. Its future price basically depends on the expansion of the investor base; for more investors to continually come in," the chairperson asserted.
Like many other critics of cryptocurrencies, the head of the regulatory body likened the crypto industry to pyramid schemes (Ponzi) and financial bubbles.
"We know more or less how it ends: the minority that get in early and get out on time win a lot of money, and the majority that get in late lose almost everything," he concluded.