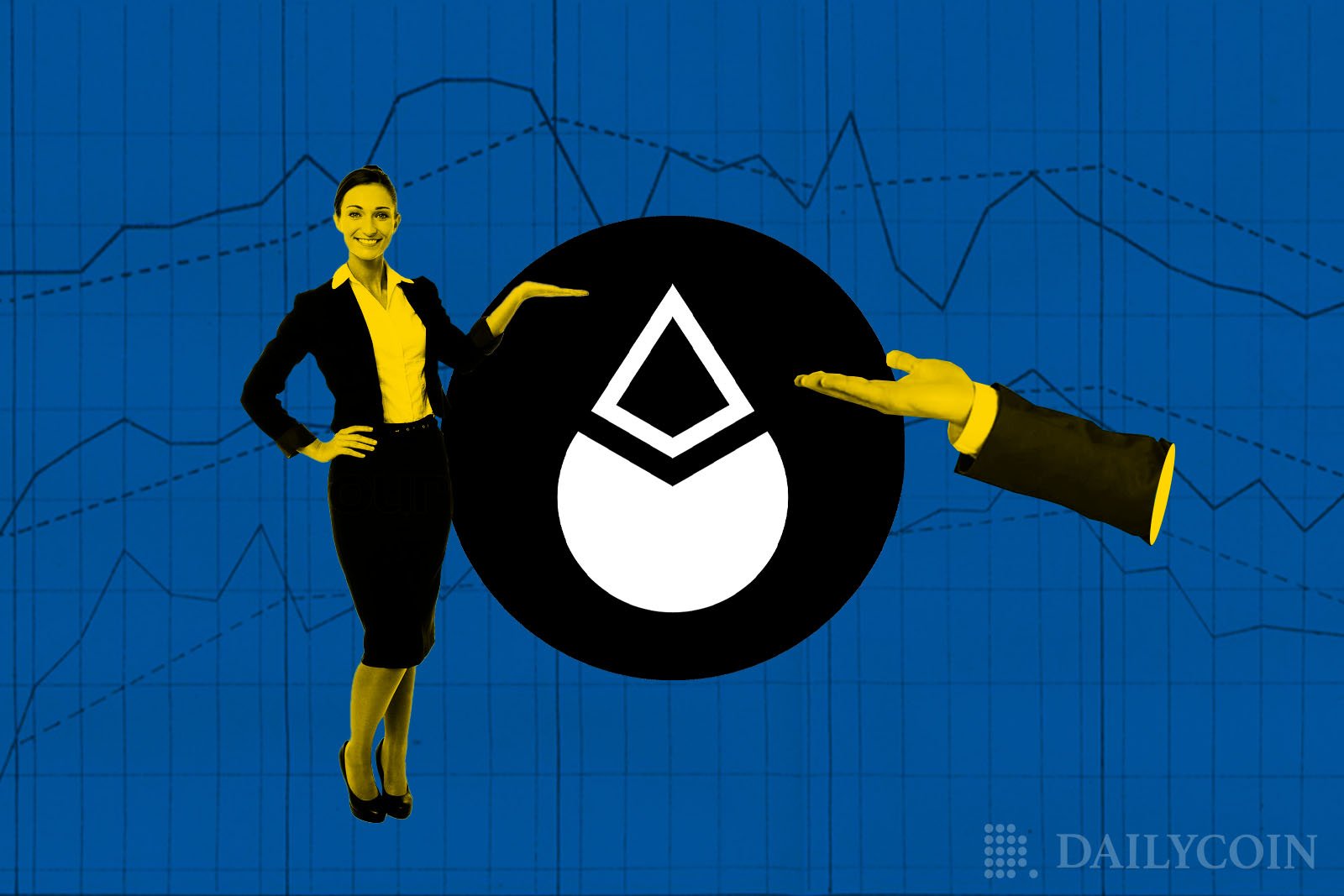 Lido, a liquidity staking solution, now holds the most staked Ethereum (stETH), with over $7 billion locked on the protocol.
Lido is now looking to expand its staking services to include Layer 2 Ethereum solutions, including Arbirtum, Optimism, and others.
Brave has also launched support for Lido DAO, shortly after the token was listed on FTX.
Lido's governance token, Lido DAO (LDO), has been in red hot form, gaining more than 220% in the last 30 days.
Lido DAO (LDO) is the liquidity staking solution available on Ethereum 2.0. LDO also serves as the governance token of the Lido Finance ecosystem allowing the holder to participate in the protocol's direction by voting on proposals.
Lido was launched in December 2020, just a few weeks after the Beacon Chain went live, introducing staking to the Ethereum network. Lido became popular as it solves many technical problems ETH stakers face.
With stakers able to lock up only multiples of 32 ETH on Ethereum 2.0, Lido solved the problem by offering non-custodial staking services. Through the issuance of stETH (Staked ETH), Lido allows stakers to lock up any amount of stETH and still use them in other protocols.
More than $7 billion is currently staked on Lido. Although Lido is used mostly in staking Ethereum, the project has launched support for Polkadot, Kusama, Terra, Polygon, and Solana, with possible expansions in the future.
On July 19, leading crypto exchange FTX announced the listing of Lido DAO (LDO) on its platform. FTX now supports spot and perpetual futures trading of LDO. The popular crypto browser Brave has announced the inclusion of Lido on its wallet.
On July 18, Lido announced its intention to expand its staking services from layer-1 networks to now cover Ethereum's layer-2 networks.
Lido will allow ETH holders to stake their tokens on L2 solutions using a wrapped version of Lido's ETH staking token, dubbed wstETH. 
According to Lido, the expansion will allow users of the layer 2 solutions to stake ETH with lower fees while also gaining "access to a new suite of DeFi applications to amplify yields."
In the announcement, the Lido team revealed that they have integrated the bridged staking services with ZK-Rollup projects Argent and Aztec. It also notes that more L2s will be supported in the future.
Lido's Head of Business Development, Jacob Blish, has also proposed a governance proposal to grant two years of "operating runway" for Lido DAO in stablecoins.
According to Blish, the operating runaway "will ensure Lido and its core contributors are able to continue the important work needed for the protocol in the long term and to flourish as an autonomous, self-governing collective."
The rapid development of Lido and the approaching Ethereum mainnet merge has seen the price of Lido DAO (LDO) erupt in the last couple of weeks.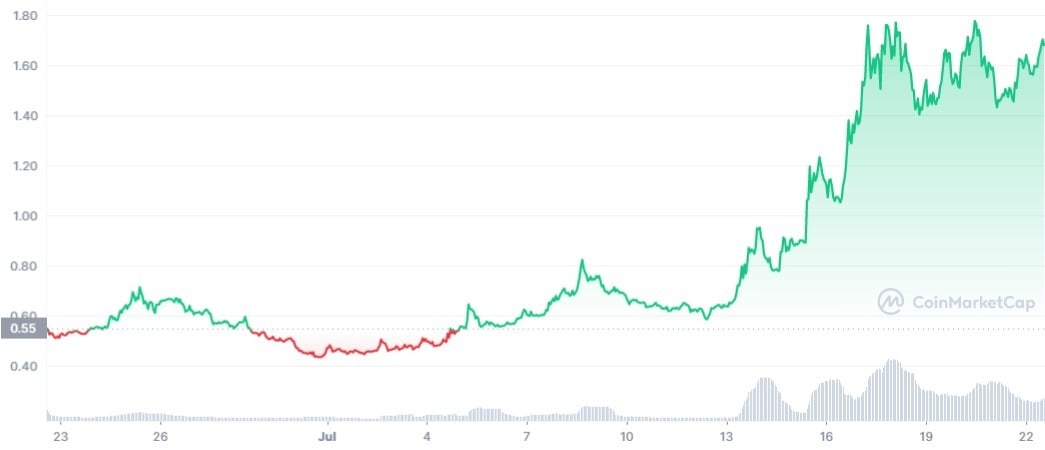 LDO has gained 48% in the last week and over 220% in the last 30 days to become the best performing top 100 crypto ranked by market capitalization.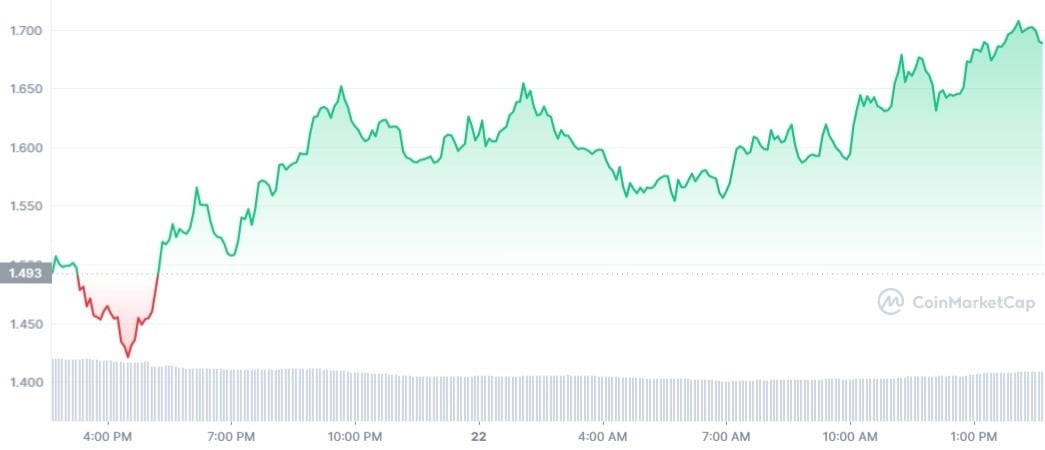 The 24 hours price chart of Lido DAO (LDO). Source: CoinMarketCap
Over the last 24 hours, LDO has gained 14.25% and now trades at $1.70. Lido DAO is now ranked as the 77th largest cryptocurrency, with a market cap of $525.9 million. 
In a future expansion of its Ethereum staking service, Lido announced that its development team is working on launching support for the Optimistic Rollup solutions Cosmos, Optimism, and Arbitrum.
However, it states that a more long-term solution will see Lido allow users to stake directly on the Layer-2 solutions "without the need to bridge their assets back" to the Ethereum mainnet.
Despite being the leading ETH staking platform, Lido is not without its shortcomings.
The Lido community has criticized the project for an "unwavering commitment to being a monopoly," hurting Ethereum's status as a decentralized blockchain.
Although Lido has an already established community, its members continue to increase as the project launch supports other networks. 
The Lido team uses the Lido DAO (LDO) to integrate the members into the project's decision-making. An example is the proposal put forward by Jacob Blish.
Even as the Lido community expands, Ethereum migrants continue to laud the Lido project. One user, @0xShitTrader, writes about Lido;
Lido's stETH has one of the best executed growth strategies I have ever seen.

Today over 4 million ETH is staked on the Beacon chain via Lido. That represents 3.4% of the total ETH supply, 32% of staked ETH, and 90% of liquid stake.

How did Lido grow to win this market?

— zk guy (@0xShitTrader) June 27, 2022
@Mannuueell_0 feels good about holding Lido DAO (LDO). He writes;
The fact that I entered this coin $LDO as early as possible is crazy af
So much potentials
I will buy and stake it for a long time

DYOR tho https://t.co/rCVvl2RXOy

— Manueell🇦🇪🇳🇬 (@Mannuueell_0) July 19, 2022
Another user, @DanTh3CryptoMan, writes about the Lido project;
4/x 🔵 Lido Finance:

One of the first and now the most successful, Lido has proven Liquid Staking is highly desirable by amassing $6.4B in TVL.

As per $ATOM Prop #72, Lido is set to launch on top of a @CosmWasm enabled chain, possibly bringing loads of new users to #Cosmos.

— Dan ⚛️ (@DanTh3CryptoMan) July 20, 2022
Although Lido is already the DeFi protocol with the most staked ETH tokens, the project has room for even more expansive growth. With the inclusion of Layer 2 solutions, the amount of ETH staked on Lido could significantly increase even before the merge. All these could have the potential to cause a major price rally for the Lido DAO (LDO).