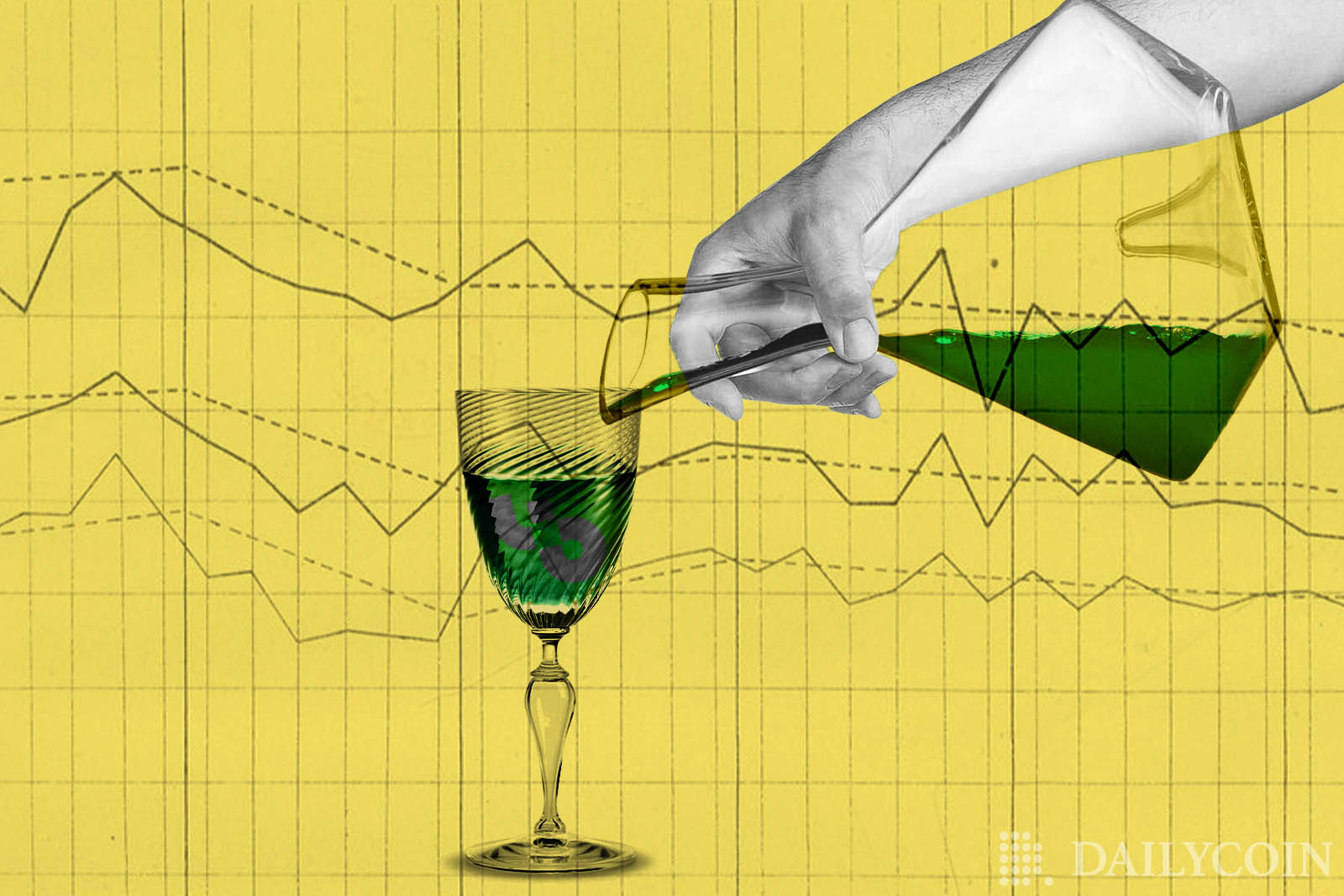 FLOW has outperformed every crypto in the last 24 hours, gaining over 50% to near a 3-month high of $2.97.
The price rally of FLOW comes after Meta announced NFTs created on the Flow blockchain can be used on Instagram.
The Flow Team has launched permissionless smart contracts, allowing anyone to deploy smart contracts to the Flow mainnet without review.
Flow has also introduced CAST, a DAO to help users launch communities, create proposals, and make decisions.
Flow is a project designed to support mainstream adoption of blockchain technology and is the only blockchain that builds usability improvements into the protocol layer. It touts itself as a project built for the next generation of apps, games, and the digital assets that power them.
This purpose-built blockchain provides extensive scaling to developers without sharding techniques. Flow is a Proof-of-Stake blockchain that splits validation tasks into four separate types of nodes: consensus, verification, execution, and collection for better performance.
Flow's fast and low-cost transactions have made it one of the best blockchains for building decentralized applications (or dapps) such as NFT marketplaces and crypto-infused video games.
Social Media: Website | Twitter | Telegram | Discord | Github | Blog | YouTube|Forum
One of Flow's biggest recent developments came on Thursday, August 4, as Meta announced that Instagram users can now connect and display their non-fungible tokens (NFTs) created on the Flow blockchain on Instagram.
Flow's partnership with Instagram also means certain select users can now connect their Hello dApper wallet directly to the leading social media platform. Flow has announced that it will continue to roll out this feature to more users throughout August.
Joyride Games, Inc., a Web3 game publishing platform, has become the latest blockchain-powered game to launch on the Flow Chain. In addition, joyride Games now features its casual games platform on the Flow blockchain. 
The launch adds more traction to a fast-growing Flow blockchain. Joyride's platform has been powering hundreds of millions of gamers and the highest-grossing games on mobile. 
As the world rapidly embraces decentralization, Flow has launched a new Decentralized autonomous organization (DAO) infrastructure, CAST, to make it seamless. CAST is a voting tool created to help communities make decisions together.
CAST will allow users to launch a community, create proposals, and make decisions with their community. Proposals on CAST can be gated using any NFT on the Flow Blockchain or the FLOW tokens. 
Amidst the frenzy of events on the Flow blockchain, the number of active accounts on the Flow network hit a new all-time high. Flow announced via Twitter that it had recorded 1.4 million active transacting users in its single most active week ever.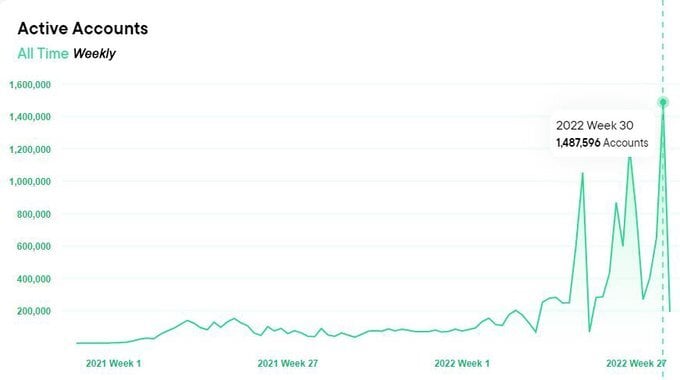 The Meta announcement sparked a major rally for Flow (FLOW), causing the token to rake in massive gains while other cryptos consolidated. 
FLOW has gained more than 50% in the last 24 hours to hit a high of $2.97, a price level last recorded on May 23. Today's rally brings FLOW's monthly gain to over 75%, the third biggest of the top 100 cryptos ranked by market cap.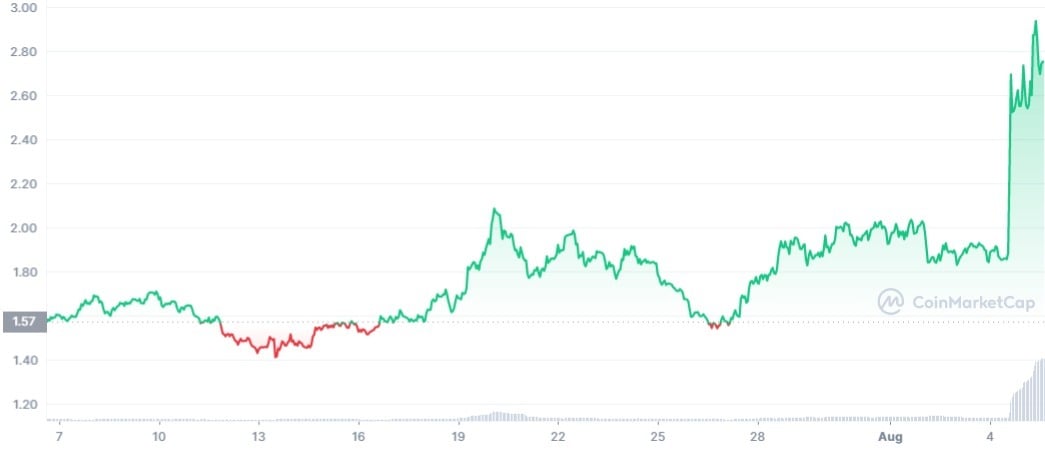 FLOW now trades at $2.75 and is ranked as the 29th largest crypto according to CMC, as its market cap has soared over $2.8 billion from $1.9 billion on Wednesday, August 3.
Further expanding its NFT reach, the Flow Network is preparing for the launch of a new collection, Solar Pups. Pre-Sale pack sales will begin on August 8, while other users will get access to the NFT collection beginning August 11.
The Flow Team has now announced the early roll-out of permissionless smart contract functionality on the network, which has been one of the core team's priorities. Anyone can deploy a smart contract to the Flow mainnet without review.
Despite its recent strong outing, sales of Flow-based NFTs have consistently declined since January.
The chain had an NFT sales volume of about $11 million in June, a decline of more than $50 million.
The Flow community is one of the biggest in crypto, recently crossing 10 million accounts on the mainnet, 1,000 active projects, and over 2 million monthly transacting wallets.
Despite its size, the Flow Team keeps the community largely involved in the developments and how the project is run through voting. 
Reacting to the Meta integration of Flow-based NFTs, Maurits wrote:
@ericaltm also remains bullish about FLOW:
$FLOW (crypto) $9, people underestimating the news by a lot.

Yes #NFTs are dying at the moment, but you are working with @instagram

— Eric @ 27th Street Capital (@ericaltm) August 4, 2022
Sharing their take on the Flow blockchain, the Twitter user @Flow__State__ wrote:
On the nature of this announcement, let's dig into why @flow_blockchain is one of the most developer-friendly #blockchains -if not the best!

Among today's more than 100 Layer-1 blockchain architectures, 4 key pillars make Flow unique.

What are these, guys? 👀

— Flow State (@Flow__State__) July 28, 2022
Flow is strategically positioned as one of the most competitive platforms for designing, launching, and scaling web 3 apps and blockchain games. This places a huge bullish signal on the Flow Blockchain and the FLOW tokens as web 3 and blockchain games gain greater adoption.