When the world is fixated on Apes, whales and other NFTs, the most famous of all memes, the one that started a whole new revolution within cryptocurrencies, remains largely ignored. Doge Capital's exclusive NFTs tackle this issue and at the same time, allow for its NFT holders a whole new income stream through its staking program that offers daily $DAWG tokens as a reward.
Woof Club
Doge Capital has made a limited quantity of the NFTs, each is a cute pixel art (24×24 pixel) that belongs to the exclusive 5,000 NFT collection. To join the Doge Capital Woof Club, a user must hold at least one of these NFTs. Each NFT and its art representation is ensured to be unique through the use of generative coding, where a computer program creates random variations, making each piece one of a kind.
While the NFTs will be making their own worth in the NFT sphere, there is a lot more to it than just an increase in value. Doge Capital is offering a staking program in which these NFTs can be put to good use. Staking will lead to a consistent income stream through the release of Doge Capital's utility token, the $DAWG. Apart from this, the Doge Capital platform will also be backing its users through the procurement of other NFTs. Every NFT acquired by Doge Capital will be put in the WoofBank, a community wallet. Since users will be holding Doge NFTs and $DAWG, they will be the true owner of the bank.
How to Stake to earn $DAWG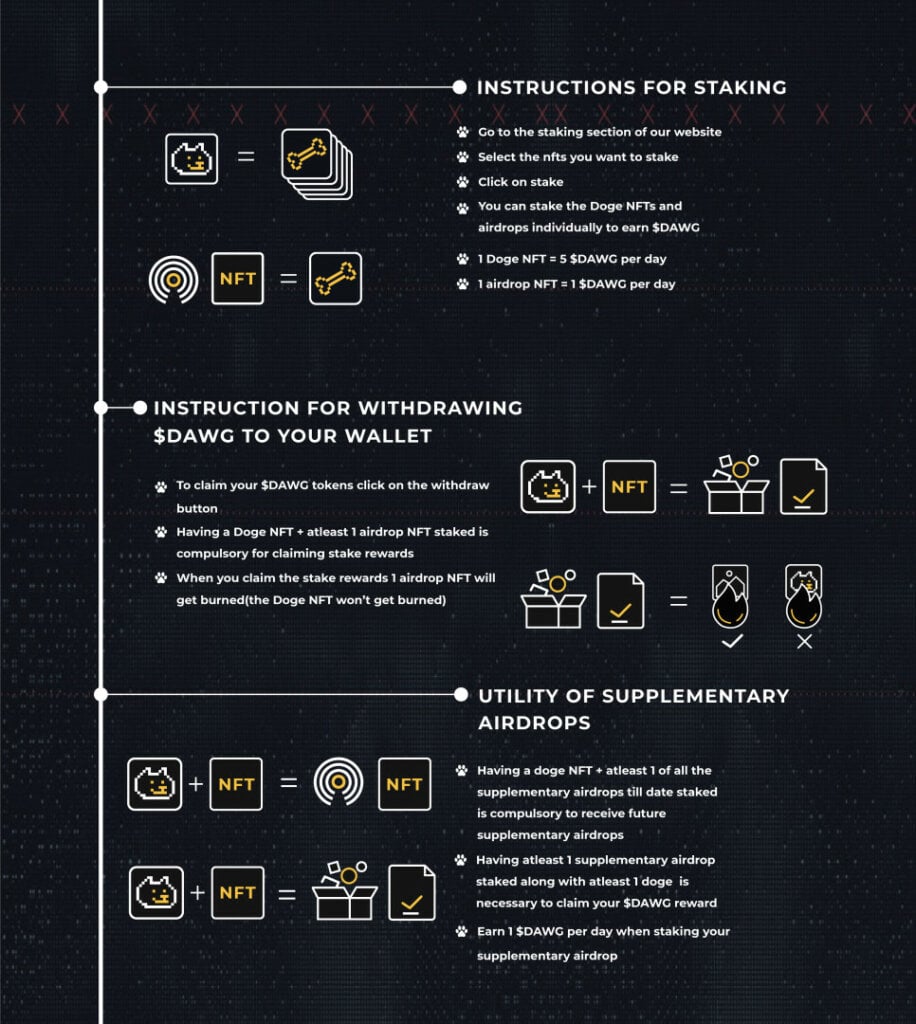 $DAWG, the utility token of the platform, is more than just a digital asset. Already listed on Raydium and Dexlab, the token is liquidable and hence, a perfect source of earning for Doge Capital users. While users can go to the exchanges and buy the $DAWG token, they can also invest in Doge Capital NFTs and its additional airdrops, and stake these to earn free tokens.
When staking is live, users can head over to the staking section on the Doge Capital website and decide which Doge NFT they would like to commit. 1 Doge NFT staked means 5 $DAWG token reward per day, while an airdropped NFT will mean 1 $DAWG per day.
It is advisable to stake both as claiming the rewards requires a user to have both committed. Once the stake is farmed, 1 airdropped NFT will be burnt (the Doge NFT will remain unaffected). This will encourage users to stake for longer periods and bring about stability to the $DAWG token.Doge Capital will continue to drop supplementary NFTs so that airdropped NFTs are available for users to burn should they want to claim their rewards multiple times.
The $DAWG Tokenomics
Total Supply : 30 Million
Circulating Supply : 1.5 Million (Circulating Supply will remain the same until staking is live)
The distribution of 30 Million tokens is as follows :
1% – Airdrop to Doge Capital holders who have delisted their Doges from marketplaces
5% – Initial liquidity on Raydium
10% – Reserve Liquidity (Liquidity to be added to the pool in the future)
10% – Team & Advisors (This will be distributed monthly over 20 month. Therefore, distribution per month is just 0.5%)
14% – Marketing
60% – Staking Rewards