Read in the Digest:
Bitcoin (BTC) surges to above $20k, while Solana (SOL) & Polkadot gain up to 8%.
Vitalik Buterin outlines Ethereum's major priorities for the next two years.
Polkadot's (DOT) update to increase transaction speed by 100 to 1,000 times.
Disney dives deeper into Crypto, DeFi and NFTs with new job listing.
Bitcoin (BTC) Surges Above $20k, While Solana (SOL) & Polkadot (DOT) Gain up to 8%
After more than a week of trading below $20k, Bitcoin (BTC) surged beyond the $20,000 mark as the cryptocurrency market rallied. Over the last 24 hours, BTC's value rose 7.65% to set a new 10-day high of $20,350.
As part of the crypto rally, Solana (SOL) leads the Altcoin recovery, rallying by more than 8% in the last 24 hours to touch a 2-week high of $34.95. Solana also recorded a significant uptick in trading volume, indicating significant interest in the Altcoin.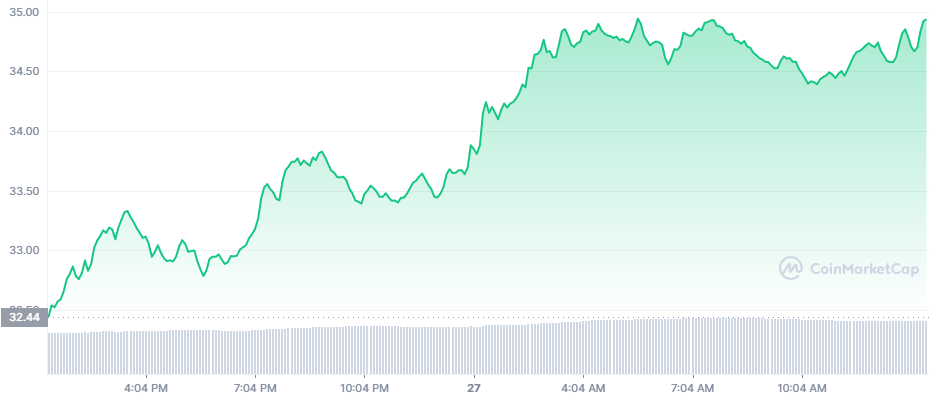 Polkadot (DOT) has also expreienced notable gains, rising in value by 5.7% over the last 24 hours. DOT now trades at $6.75 at the time of writing, having reached an inter-day trading high of $6.79.
The cryptocurrency rally has had a tremendous impact on the market, as the global crypto market cap soared 6.5% in the last 24 hours, bringing it above the $1 trillion mark for the first time since September 17th. 
Bitcoin's improved price comes amid a fall in stock market prices, leading analysts to question whether BTC could be in the process of breaking its correlation with stocks.

Vitalik Buterin Outlines Ethereum's Major Priorities for the Next Two Years
Following Ethereum's successful transition to a Proof of Stake (PoS) model, its Co-Founder, Vitalik Buterin, has outlined the main "priorities" for the Ethereum ecosystem going into the next two years. 
In his recent appearance on the 'Bankless' podcast, Buterin explained that, post-merge, figuring out the scalability of the network is one a top priority. He went on to state that the scalability of the network would cut across all layers of the ecosystem.
According to Buterin, the second most important priority lies in seeing Ethereum transition from "being in rapid developing fire fighting mode, to Ethereum being in stability mode."
The cypto mogul explained that, with the monumental upgrade now complete, developers will no longer need to rush through big protocol changes, and believes that the community becoming more "pragmatic" in the near future.
With Ethereum's power usage now 99.9% lower than it had been when running on a Proof of Work system, Buterin predicts that Zcash and Dogecoin will eventually switch to a more sustainable PoS model.
Following Buterin's proposal for the future of the network, Ethereum could become more pragmatic, following the example set by Cardano in taking a long-term route that leads toward increased sustainability, as opposed to rushing updates.
Polkadot's (DOT) Update to Increase Transaction Speed by 100 to 1,000 times
Open source blockchain platform Polkadot has provided a new roadmap update, revealing the deployment of Asynchronous Backing—a scaling technique that allows parachains and the relay chain to build blocks together for faster transaction processing. 
According to Polkadot, the state-of-the-art "Asynchronous Backing" technology will increase the speed of the network, raising its current number of transactions per second (TPS) of 1,000, to a staggering 100,000, or even 1,000,000 TPS, without breaching the network's security guarantees.
The update is estimated to cut block time by half, dropping it from 12, to 6 seconds, implying lower latency and faster finality for transactions executed on parachains. Furthermore, the amount of block space available to each block will be increased by a factor of 5-10 times.
Asynchronous Backing is expected to launch on Kusama, Polkadot's development testnet, before the end of 2022. Other upgrades relating to scalability, expense calculation, cross-chain, communication, governance, and staking, as laid out in the roadmap, are expected to roll out by mid-2023.
Polkadot's stablecoin, Acala Dollar (aUSD), has already de-pegged after resuming operations.
The major scalability improvements proposed for Polkadot are expected to increase the amount of work parachains can handle, and optimize the network's overall performance, which would facilitate the registration of additional parachains.
Disney Dives Deeper into Crypto, DeFi, and NFTs with New Job Listing
Media giant Walt Disney is seemingly looking to expand into the crypto space after posting a job listing for a principal counsel to assist the beloved company in exploring opportunites in the emerging technology, including those in NFTs, DeFi, blockchains, and the metaverse, as per the posting on the Disney careers website.
The "experienced corporate attorney" would be responsible for providing legal advice and support for global NFT products across the company's varying business branches. They would also ensure the company's NFT product compliance with U.S. international laws and global regulations.
The position would require the principal counsel to provide day-to-day legal advice regarding digital currencies and blockchain technology, and to guide Disney's efforts in properly applying the emerging technologies. 
To be considered for the position, applicants are required to have a minimum of 5-8 years of experience in managing complex corporate transactions, as well as intimate knowledge of NFTs, Web 3.0, and cryptocurrency, while work experience with a reputable, multi-national corporate firm is considered a plus.
A leaked final draft of the European Union's landmark MiCA legislation reveals that blue-chip NFT collections such as the Bored Ape Yacht Club and CryptoPunks could soon be regulated as securities by Europe's governing body.
The job listing has led many enthusiasts throughout the industry speculating about the potential of Disney's deeper involvement in crypto, Defi, and NFTs, and the form it may take.